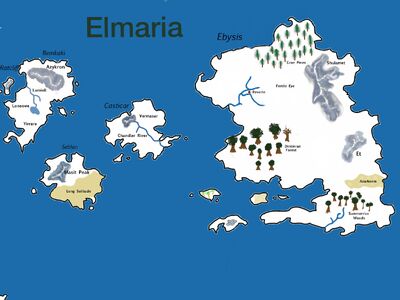 The known world of Elmaria is only a collection of one large continent, known as Ebysis, and three smaller islands, Seblan, Casticar, and Bemkaki. Surrounding these landmasses are atolls and small islands, mostly used for vacationing, or resources (such as the nickel-rich mountain island of Ratcliff). Humanity allegedly started on what became Ebysis, and Ebysis is the most prominent of the continents, and in the past has been the leader most technological revolutions.
States of Ebysis
Edit
Ebysis contains twenty-seven states, many of which were orignally kingdoms, duchies, or city states. During the rise of the confederacy many of these nations joined, and eventually all of Ebysis was taken, either with coin, sweat, or steel. Below is a list of all of the states of Elmaria:
Edit
Suedenkirk
Roxwhel
Janesland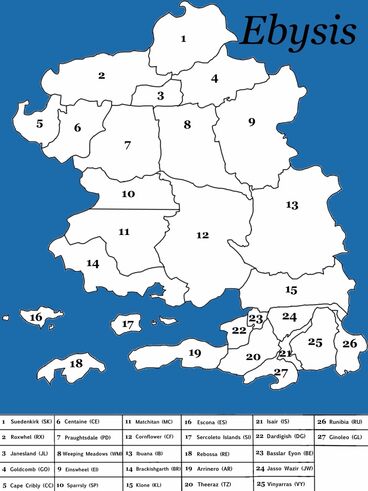 Goldcomb
Cape Cribly
Centaine
Praughtsdale
Weeping Meadows
Einswheel
Sparrsly
Cornflower
Ibuana
Brackishgarth
Klone
Escona
Sercoleto Islands
Rebossa
Arrinero
Theeraz
Isair
Dardigish
Basslar Eyon
Jasso Wazir
Vinyarras
Runibia
Ginoleo
Community content is available under
CC-BY-SA
unless otherwise noted.